Rooms & Suites
King Ottoman Pool Suite
Wake up to an enchanting sanctuary with a sumptuous private pool. An ultra-comfortable king-size bed and a living room boasting tasteful antiques, original artworks and a dining area complete the picture.
*The King Ottoman Pool Suites can be interconnected for larger-group hideaways. Just pick the combo that fits your holiday needs.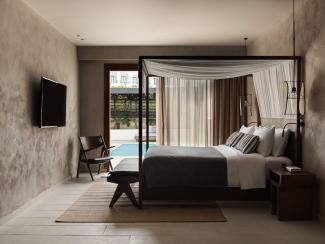 A fully stocked minibar and a mini wine bar with premium wines and champagne are offered for those moments you want to cocoon and leave the world behind.
Larger Group Accommodation in Rhodes
More Space for More Guests with Our Interconnected Suites
Wishing to add extra space and luxury to your stay? Unlock the beauty of the interconnected King Ottoman Pool Suites. Share the pleasures of holiday living with your "tribe" of friends or family and feel at home with more room to breathe. Enjoy your sojourn in Lindian Village the maximal way.