Lindos, the Wonder of Rhodes
Lindos
Explore the most iconic archaeological site in Rhodes, the Acropolis of Lindos, where Athena Lindia was worshipped from as early as the 9th century BC. Follow the donkey path up to the citadel to experience the dramatic landscape and the most phenomenal vistas from a steep cliff rising high above the sea. The ruins of the ancient temple and the impressive 20-columned Hellenistic stoa are full of ancient secrets, while the mighty medieval fortress of the Knights of Saint John is an imposing landmark to marvel at.
Ask our concierge and let us help you plan the perfect day in Lindos with one of our curated island experiences.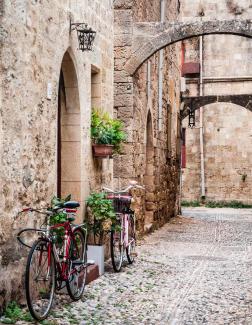 More Lindos Inspiration
Scenic Strolls & Inspired Swims
When in Lindos, you can enjoy a scenic walk in the modern village, which rests quietly on the foot of the hill. A place where time has stopped and life flows undisturbed in a carfree, picture-perfect maze of white-washed little buildings, impressive Captain houses dating back to the 17th and 18th centuries, and nostalgic fragrant courtyards. For soul-gratifying swims and landscapes, head to the gorgeous Lindos beach or the beautiful St. Paul's bay with its charming small church and its crystalline sheltered waters, ideal for diving and snorkelling.